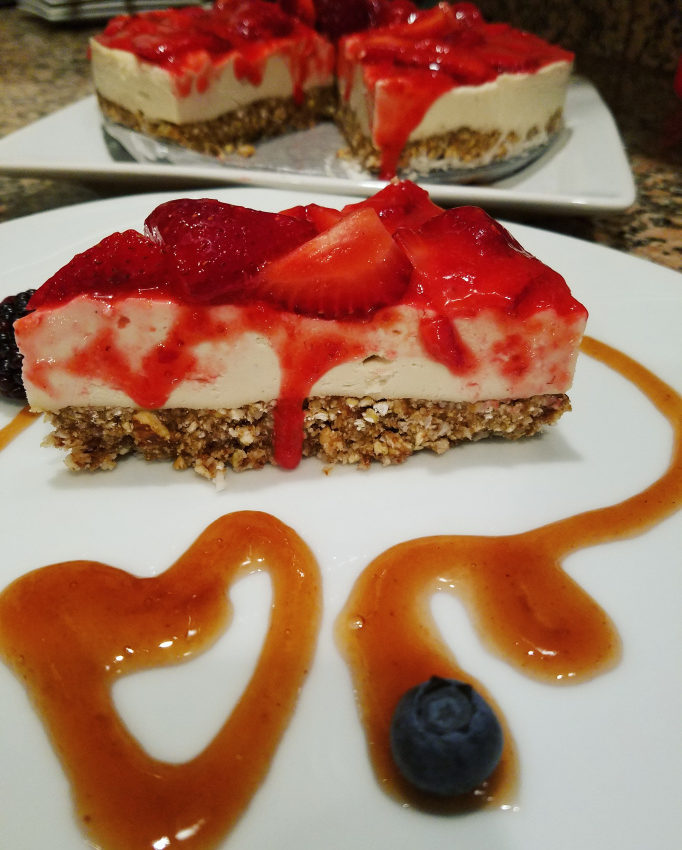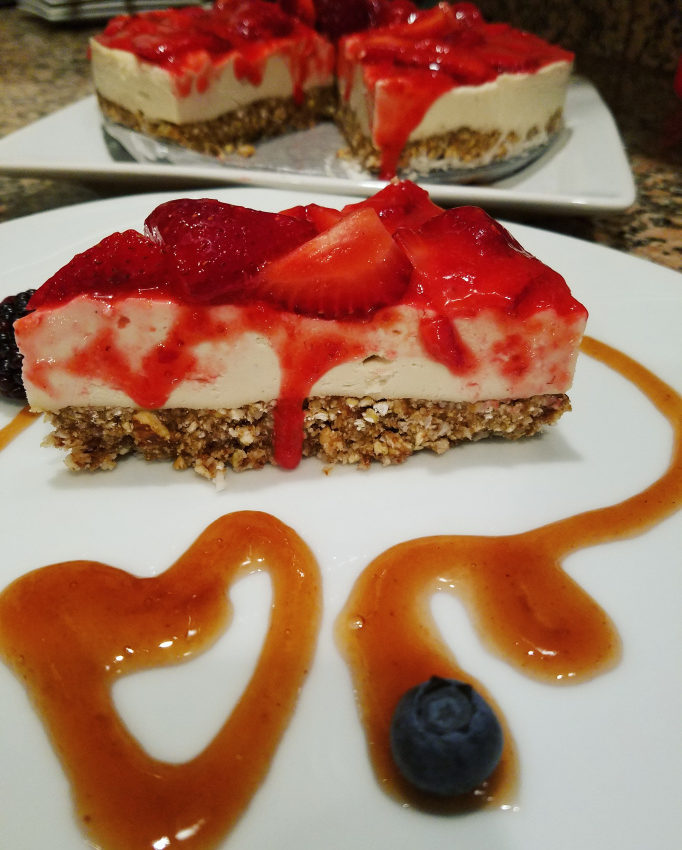 BERRY GOOD RAW CHEESECAKE
By Jane Park Smith
February 22, 2017
BEAUTIFUL AND DELICIOUS TREAT FOR YOUR FAMILY OR HOUSE GUESTS…with some overnight soaking, putting this together is pretty simple! Please use only organic or local berries not sprayed with pesticides grown by farmers you know and trust.
Prep: 30 mins
Cook: 2 hrs
Ingredients
CRUST INGREDIENTS
1 cup soaked and dehydrated nuts (Brazil, almonds, walnuts, & pecans are my favorite)
1 cup shredded, unsweetened coconut (handful extra for pan lining)
1 cup gently soaked dates or raisins… or even figs–whatever suits you fancy and that is on hand
3/4 cup buckwheat groats (yes, these are gluten-free)
dash Himalayan pink salt
dashes Ceylon cinnamon
CHEESECAKE INGREDIENTS:
3 cups soaked Indonesian cashews (they are very buttery and creamy)
1/3 cup sweet liquid (I soak monk fruit granules in water.) Honey or maple syrup works, too.
1 scant Tablespoon vanilla paste
1/4 cup fresh lemon juice or at least 1 a lemon
1/3 cup warmed coconut oil
TOPPING OPTIONS:
fresh fruit (I like layering with jammy topping and then topping with fresh fruit
jammy topping of berries 1 cup and 1/4 cup dates with squeeze of lemon juice, pureed
option (to seal in fruit, you can add jammy topping over the fresh fruit
Directions
11. pulse together crust ingredients in food processor until it sticks together but still has not crunchy texture.. this is a preference matter so do what feels appetizing to you!
22. line your springform cake pan with parchment, then spray with coconut oil…sprinkle some of the coconut shreds on bottom for ease later
33. press crust firmly into bottom of pan
44. mix all cheesecake ingredients into your power blender (Vitamix or like) until smooth
55. scoop cheesecake into pan and chill to set in freezer for a couple hours
66. blend the topping ingredients and prep your fruit (i.e. if you are using strawberries, slice them as you want for decor or go bold and use them whole other than the green leaves, that is!)
7top as you like, but make sure you let the entire cake defrost before serving (about one hour room temp or several in fridge)
Make sure you save a slice (or 2) for yourself!
0 Reviews