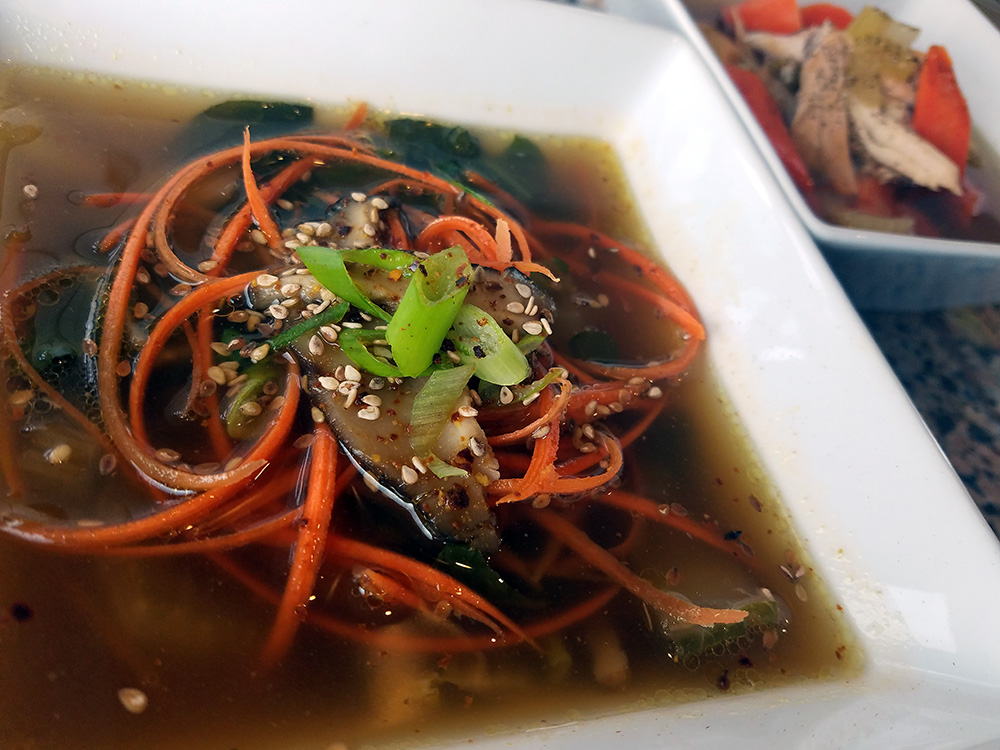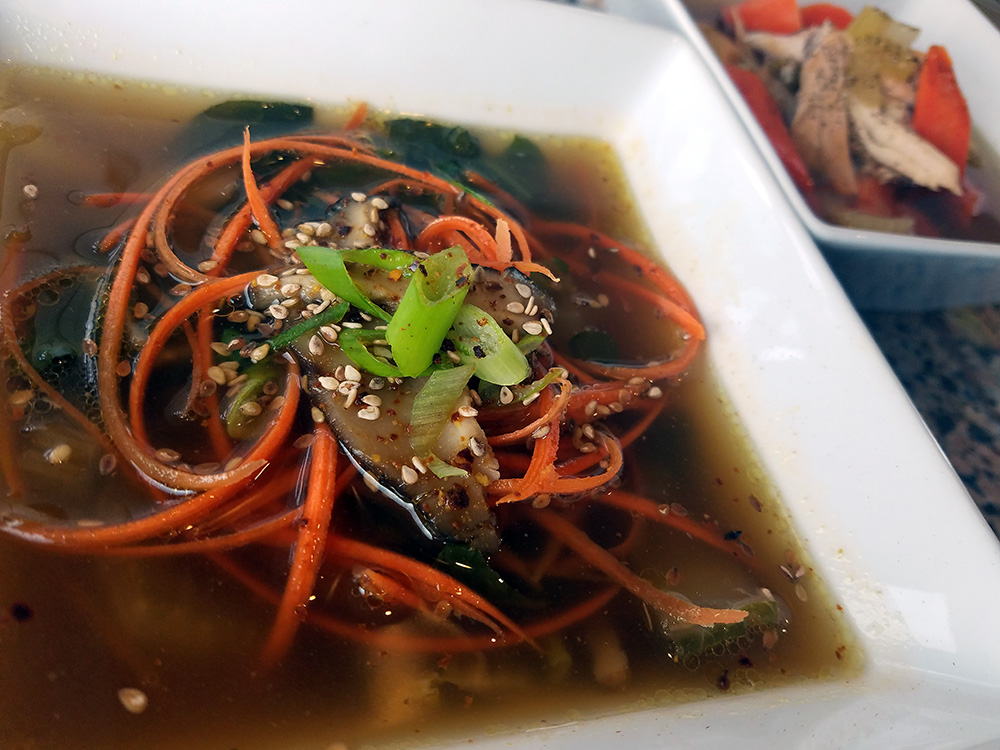 Chicken Bone Broth with Veggies
By Jane Park Smith
February 13, 2017
Catching a cold or flu is no fun, but getting to enjoy rich, hearty soups can be a delight!  This 48-hour bone broth was prompted by a super special delivery from a most Fantastic-O…aka Omar, my fellow producer for The EATS Community.  He thoughtfully dropped off all the ingredients I needed to make this because I had the sniffles…Thanks Omar!
Prep: 30 mins
Cook: 8 hrs
Ingredients
1 Whole Chicken
1/2 Roughly chopped Celery
1 Peeled, Chopped Carrots
1 Peeled and Smashed Ginger
1 dash Salt, Pepper, Spices of your liking
2-3 Bay Leaves
1 bunch - Bok Choy
1 dash Splash of White Whine
Directions
1Rinse chicken and fill large stockpot 3/4 full of filtered water
2Peel, prep carrots, celery, onions, garlic, and ginger
3Throw it all in pot with salt and bay leaves and simmer for 12 hours
4Lift out all the veggies and chicken parts
5Add splash of white wine and return chicken bones to simmer another 12 hours
6Wait until broth is cool enough to strain through fine mesh
7Taste and add your choices of seasoning as needed
8Separate broth in to different pots to make varied soups, including classic chicken with veggie soup and east Asian inspired shiitake mushroom soup with noodled carrots, sliced green onions, sesame seeds, and red pepper flakes to garnish.
9I froze several portions of both soups for gifting and to have on hand to cook with for the next dish.
honey is optional if the person you are serving has a really scratchy throat
extra veggies to put in at the end: more chopped celery and carrots, bok choy and julienned ginger with noodled carrots
Note:  I like to brew the heck out of the chicken to maximize the bone broth's nutritive value.  After all, if an animal is going to help fuel me, I want to do it justice by making sure not to waste any part of it.  Also, you can brew much shorter than the 2 days I spent deepening the flavor and health profile of this broth, but please do not brew any less than 8 hours.  12 hours or brewing would be an good compromise.
ENJOY THE SOUP…and enjoy sharing 
0 Reviews